James C. Vurgaropulos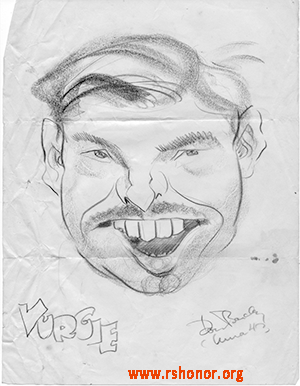 A sketch of "Vurgie" done in China in 1943 by the
artist and prolific Hollywood actor Don Barclay.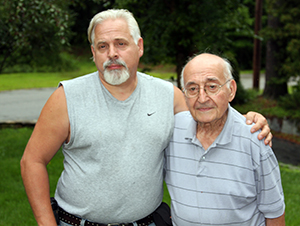 James C. Vurgaropulos's nephew and brother in 2008.
James C. Vurgaropulos died after a crash in China as he strafed a ground target in his P-40 (serial no. 42-104941) on Jun 29 1944. Lt. Vurgaropulos was on a mission leading 16 planes near Changsha. Lt.Vurgaropulos was a member of the 75th Fighter Squadron, of the 23rd Fighter Group.
Official reports suggested he died after being hit by anti-aircraft (AA) fire (see the MACR of his loss here), however,  another pilot on that mission, Lt. Oswin H. "Moose" Elker, witnessed James' crash, and described it this way:
"On June 29, 1944... at one point Lt. Jim Vurgaropulos and I were strafing trucks on a road when we suddenly got a heavy concentration of heavy stuff from our left. It was coming from an adobe type house. Jim was a pragmatic sort of guy, and whipped into a left bank to get at the house. He peppered it good, but much to my horror, he never broke off his attack, and I saw him fly right through the house and came out the other side and land on his belly in a grassy field about 500 yards beyond. The plane just skidded on the grass slowly turning to the left whith the wings parallel to the ground. I called him on the radio but got no response. I circled the site several times but saw no movement in the cockpit. It was hard to leave him like that but I was under heavy fire and there was no way I could give him any help..."
The renown pilot Don Lopez, in this book "Into the Teeth of the Tiger," describes the crash, and gives a separate possible cause:
"One June 29 we lost one of our most popular pilots, Lt. Vurgaropulos, or "Vurgie" as he was called. His Greek heritage had made him a bit of a philosopher and he liked nothing better than to sit around and discuss any subject at length.  His favorite subject was air power, and he was a strong disciple of Alexander De Seversky's writings. Most of us were in agreement, but usually argued against De Seversky in order to watch Vurgie fume and fuss. He was short, about five feet four, with heavy eyebrows and a fierce mustache. Despite his lack of height he walked kind of hunched over, which made him look even shorter. He also flew with the seat at the lowest possible position and was almost invisible in the cockpit. The first time I flew as his wingman, I kept pulling up above him so that I could see down into his cockpit and reassure myself that the plane was occupied. 
His habit of sitting so low, which he said made him less vulnerable to enemy fire, was probably a contributing factor in his death, along with target fixation. He was up in the north strafing Japanese cavalry when he flew right into the target on a strafing run. When a pilot has a good target he is often tempted to keep shooting just a little longer sometimes, until it is too late to pull out. I think that, plus the difficulty judging height from such a low position in the cockpit, was the cause of this death."
James was born on February 22, 1919, in Lowell, MA, to Greek immigrant parents. He was one of seven children. Called "Jim" by his family, they remember him as an often quiet person at home, although he would not tolerate the injustice of bullying and was never afraid to challenge a bully in the act. Although he was not particularly proficient in school, he was artistic and had a natural aptitude for design. He usually carried a pocket notebook for his designs, sketches, and ideas.
While James served in China, his family in the US avoided detailed discussion of what he was doing, or the risks involved. Indeed, the risks and potential heartbreaks were overwhelming for his parents since five of the seven siblings served in the armed services during the war, in one way or another. And sadly, as a double blow to his family, James' death in China in 1944 was followed shortly afterwards in 1945 in by the death of his beloved brother, First Lieutenant John Vurgaropulos, who died in a mission over Europe on a B-26 Marauder (42-107576), on February 24, 1945. 

Brother John Vurgaropulos, member of the crew of the B-26 Marauder "Panchita Del Rio" who was killed on a mission over Europe on February 24, 1945. He was eventually buried at Arlington National Cemetary after the war.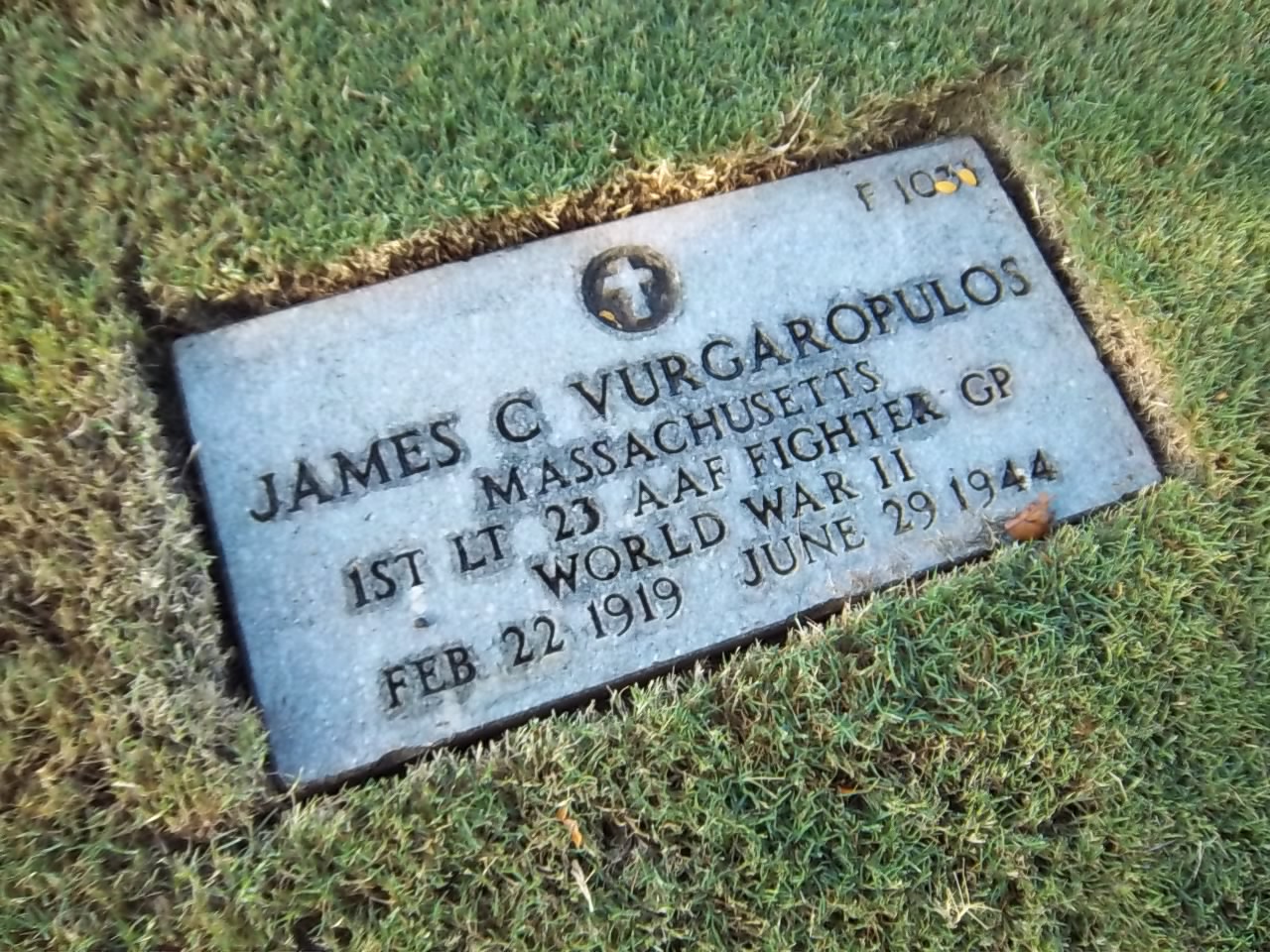 Gravestone of James Vurgaropulos at the National Memorial Cemetery of the Pacific, Honolulu, Hawaii. (Image courtesy of Jeff Hall.)
James and John were close, and shared many similar interests. As children, after viewing a Tarzan movie once, they decided to try some of the tree swinging moves they had seen on the silver screen. Making their leaps, James made his jump with success, but John fell, breaking his arm. Both brothers had a great affection for flight starting at an early age. In their youth both were excellent model airplane builders.  John won first prize for one of his handmade Beechcraft models. James was an excellent artist and was highly creative, and he even redesigned balsawood gliders based on his own ideas. The brothers won 1st prize in one competition at the Lowell airport, with a design using clear white pine for the plane body, and balsawood wings. They designed the glider to circle, and circle it did, until it flew out of sight, earning them a 1st prize. At a time when most plane designs where still clumsy bi-wing designs, James came up with an airplane design having a single lower wing, the spitting image of the plane he later flew in China.
In 1979 an act of the Masschusetts legislature renamed a bridge (numbered L-15-13) in Lowell, MA, as the Vurgaropulos Memorial Bridge in memory of the two brothers.
Today both brothers are remembered with "great reverence," as "heroes," by their family.
See all materials related to James here.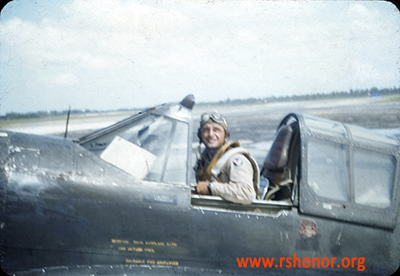 James Vurgaropulos sitting in a P-40 in China.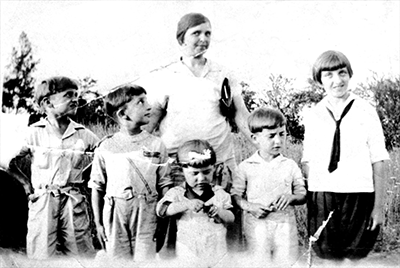 Six of the Vurgaropulos siblings as children (a seventh had previously died from appendicitis).  Remarkably, five of these six served in the armed services, in one capacity or another, during the war.
Below is the "blood chit" that Lt.Vurgaropulos had on his jacket during that last fateful flight in 1944 (see a story, despite some errors, of the recovery of this blood chit in the National Personnel Records Center here.)