Not even
a letter from a respected general
promising that, "Every possible effort has been and will continue to be made to locate your son," would be enough for Lt. Ernest Garner's family after he disappeared over Shanxi province, China in the spring of 1945.
Chennault's letter, received a month after Lt. Garner's disappearance, was carefully filed away, but the family could never put away the desire to see a lost son brought home, even as years turned into decades, and then broke into another century.
But what twists of fate could lead an American lad from the small community of Ashburn, Georgia, all the way across a world to China's hinterland?
Ernest W. Garner, Jr., was born second in a successful family of five children, on March 7, 1923, taking on the special mantle of eldest son, and inheriting his father's name. A handsome and well-liked youth, considered as having the highest quality of character, he graduated Ashburn High School in 1940. Entering Georgia Tech that fall, not long before unseen currents in world events would surface in a terrible world war, he left his degree unfinished to join the Army Air Corps in February 1943, following his country's call. Like the generation of soldier youth all around him, he joined into a great movement, and trustingly conformed as a vast unfathomable organization sent him from base to base, and through various activities and rituals, training him to be his country's warrior, and in the specialized skills of air warfare. He finally received his wings on Feb. 8, 1944, at Napier field, Alabama, then departed the US in August 1944, for his assignment abroad—being selected, through whatever hidden processes, to go to Calcutta, India, and thus into the China-Burma-India (CBI) theatre of war.
For a thinking young man tossed into a world of the harshest realities, it was an time for deep contemplation. After all, one could only look around at a world that had changed so much in just a few years, and his young life that had suddenly followed the world's startling changes, and wonder at the meanings of it all. In the midst of all the risks and sacrifices, and a world turned upside down, Ernest Garner still found bright lights of human experience to celebrate. On December 23, 1944, the day before he was to fly over the Hump—that high sky-scraping Himalayan range—to a new station in China, he reflected in
a letter to his mother
about stateside Christmases that were colorfully alive in his memories, ". . . I can see the little tree on the table and the wreath on the door," he wrote, ". . . Remember the many times we all crowded through the French doors on those Christmas mornings. Wonderful days, wonderful times. . ."
Tenderly concerned about a family and mother who worried for his safety, he instead sought to reassure them.
"This one will be fine, and think of the ones, to come!! I hope from the bottom of my heart that it'll be the grandest and swellest Christmas that you, Em, Dusty, Marg, James, Nookie. Ebb, Jim, Florence, Terry and everyone have ever spent. . . Every thing is fine with me; I want for nothing. I have the love of each and all of you here with me, and you know that always my love and devotion are with you all."
Ernest Garner was positive in his vision of a coming future, " . . . there's no place for worry or doubt, just a clear strong faith in the future, and there is most certainly a wonderful future ahead for us and we'll all be together in a New World. . . there's a guiding justice over this mess, and faith will see it through."
His letter of comfort and contemplation finished, the war continued on heedless of the holiday, and the next day, Christmas Eve, Ernest Garner was in China.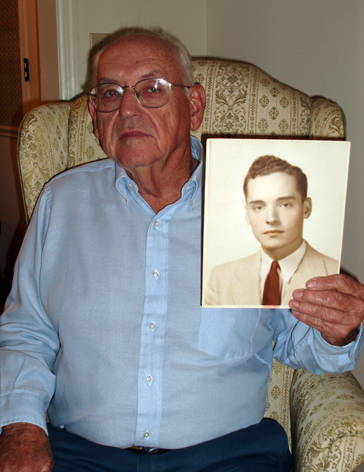 Younger brother Everett holding a picture of missing elder brother Ernest (2008).

On the morning of his disappearance on April 14, 1945, he was piloting a P-51 "Mustang" fighter plane over Shanxi province, attacking targets of opportunity with a group of other fighters. Through various actions the group damaged a Japanese train and other targets. Yet later other pilots were not sure just when Lt. Garner had slipped away, and could only remember that he was last seen at 7:45 a.m. that brisk morning as they climbed into the clouds to regroup before joining up with other American flights. There were never any additional sure sightings of his plane, and no radio contact was ever received from Lt. Garner. Later what was assumed to be a crashed and burning plane was sighted from the air six miles north of Yuncheng city in southern Shanxi province. All assumed it was Ernest Garner.
Robert A. Clendinen, Lt. Garner's commanding officer sent a letter to the family nine days after the loss, trying to be kind, but also pragmatic about an American going down in "Enemy occupied China," writing, "I am reluctant to build your hopes that Ernie will be back, and yet there is a possibility that he was able to bail out of the plane and may now be in the hands of Chinese guerillas. I regret that I cannot lessen your anxiety… we can only have hope."
By that time, Chinese guerillas were the only hope, and they were in fact a great bet. Over the course of the war, Americans who got into the hands of the Chinese guerillas did very well, and the guerillas (and Chinese civilians) in fact often paid a dear price to protect their American charges and get them back to the Americans.
However, the truth was that Ernest Garner could never have returned. Some time after the crash the Chinese stealthily slipped a report out of that occupied area stating that an American pilot had crashed and died, and had been buried, with a wooden marker erected on the spot. The information about the burial site provided by the Chinese was very complete, but post-war events prevented a reclamation team from ever going to the spot.
Ernest's mother Lela spent years after the war actively seeking out additional information from the US government, the military, and people who knew Ernest. She prodded officials to take action to recover her son, but it just wasn't possible.
Ernest Garner's nephew Allen Garner grew up just a few blocks from his grandmother Lela, and listened well over the years as she told many stories with tears in her eyes of her lost son Ernest, and he holds a vivid image of his uncle created from her shared words, even though the uncle and nephew never met—never could have met—in life. Allen has taken on the cause that his grandmother held for decades, and still seeks his uncle's resting place. Ernest's youngest sibling, his brother Everett, is the only surviving member of the family now, and will soon be 78. They all want an accounting for their lost kin.
The Remembering Shared Honor group is working with the Garner family to seek Ernest Garner. People in Yuncheng have expressed tremendous support and friendship and have done excellent preparation for our visit. We depart for Yuncheng city, Shanxi province, at noon Saturday, April 12, 2008, and if all goes extremely well—this is our dream anyway— by 7:45 am, April 14, 2008 we will stand at the site where Ernest W. Garner, Jr. rests today—exactly 63 years from his loss, and will finally have an answer for a family that has loved and pined for someone unseen for so long.
After our trip we will share here those parts of the answer to Ernest Garner's tragic loss that his family feels comfortable sharing publicly.
See
Ernest W. Garner Collection
for additional related items.
(Text by Patrick Lucas)
(All photos courtesy of the
Garner family)