Robert W. Fensler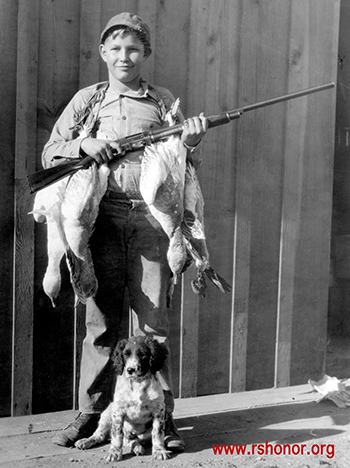 "Bob" Fensler grew up an active youth in the Tule Lake, California, area, as in this image, as a young hunter with his dog.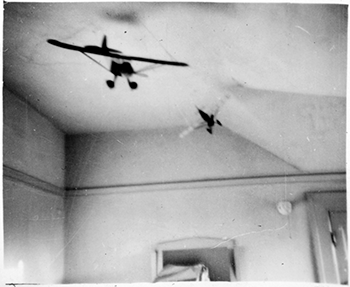 Model airplanes hanging from the ceiling of Robert Fensler's bedroom in the 1930s.
Capt. Robert W. Fensler,
425th Bomb Squadron
,
308th Bomb Group
, was tragically lost in 1943 while flying on a B-24, "The Pregnant Swan," while enroute from Pandaveswar, India to Kunming, China.
Fascinated by airplanes and flight from a young age, he started making and flying model airplanes in his youth, and trained to fly full-sized aircraft even before the American involvement in WWII, as in the top image, feeling "relief (to get back alive)" after surviving an early solo flight during flight training on January 1, 1940.
On the flight was this crew, all lost:
Maj Robert W. Fensler, ASN O-397377, Command Pilot (CA)
1st Lt Phillips G. Huffman, ASN O-791437, Pilot (OH)
1st Lt Jerrold E. Owens, ASN O-730158, Co-pilot (OK)
1st Lt Frederick W. Ossenfort, ASN O-791623, Navigator (NY) 
1st Lt Harvey M. Nix, Jr, ASN O-728506, Bombardier (AL)
TSgt Norman H. Price, ASN 34232194, Radio Operator (LA)
SSgt Louis E. Verhaegen, ASN 12078470, Asst Radio Operator (NJ)
TSgt Erle H. Thayer, ASN 37146430, Flight Engineer (KS)
SSgt Aubrey E. Stevenson, ASN 20828940, Asst Flight Engineer (OK)
SSgt. Sandow E. Rivardo, ASN 32326460, Gunner (NY)