---
Dwayne H. Mengel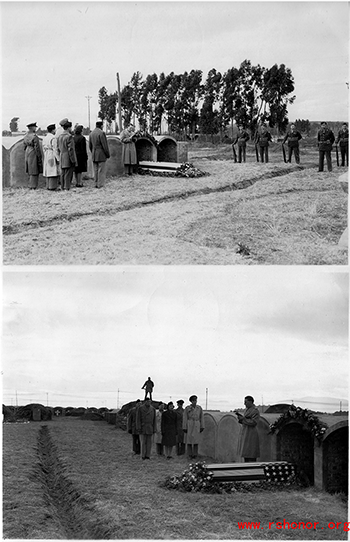 The 308th took heavy casualties, and one of the Chaplain's duties was to bury recovered bodies in local graves until they could be repatriated after the war. Above,  Chaplain Mengel conducts a temporary military burial in Yunnan, China. See the image full size here.
(Above, A "Flying Tigers" Reunion: Chaplain Mengel is pictured second from the right in this postwar reunion photo.)
LT. COLONEL WW 2, CBI THEATRE
Chaplain Dwayne Halley Mengel
"Flying Tiger," 308th Bomb Group, 14th Air Force
Chaplain Dwayne H. Mengel was a native of Gibsonburg, Ohio. He received a Bachelor of Liberal Arts from Ohio Northern University, and Master of Theology from Boston University in 1937. He was serving as a Methodist Pastor in Cincinnati, Ohio when America declared war on December 8th, 1941. He enlisted, and was commissioned into the Chaplain's Corp in August 1942. His first assignment was the 308th Bomb Group in China. He served with General Claire Chennault as his unit's chaplain. Later, he was transferred to 14th Air Force Headquarters in Kunming, China as Deputy Staff Chaplain. He returned stateside in April 1945, and was given several assignments, including District Air Force Liaison Chaplain at Bolling AFB, and again with the 14th Air Force as Base Chaplain at McCoy AFB in Orlando, Florida. He returned to Asia and served as FEACOM Chaplain from 1948 to 1951.
MY FATHER, MY HERO 
This brave Chaplain was my father. I wasn't born until 1956, and he wouldn't tell me about the war. He passed into Heaven's Glory in 1984. I am trying to learn more about his earlier life in the Flying Tigers through his photographs and other records. If you knew him, or recognize any places or people in these photos, I would very much appreciate hearing from you! I can be contacted through this website or at elizabethc_ross@yahoo.com.
Thank you,
Elizabeth Mengel Ross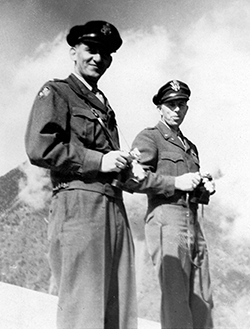 Flying into Battle to Pray His Men Home!
Pictured above in western Yunnan province, China, with Colonel William F. "Frank" Grubb, his war-time best friend, Chaplain Mengel went 'above-and-beyond the call of duty' by flying into battle with his men. Colonel Grubb recounted stories of how Chaplain Mengel rode in his co-pilot seat during bombing runs to pray until they returned safely to base. Chaplain Mengel did this unarmed, with only a knife for self-defense. See the image full size here.
Missions Outreaches Amid the Battles
Chaplain Mengel lead his men to participate in outreach to the war-torn and impoverished Chinese countryside. These photos from Chaplain Mengel's private collection, show him with General Chennault, giving out donations from the US airmen. A collection had been taken to help rebuild bombed villages. They also visited mission schools, and assisted blind children's homes.
-------------
Do you have more information regarding this item? Please contact pat@rshonor.org, or us the 'Provide Info' function below to help us preserve this CBI history!