We are excited that, after years of hoping to find some kin of Lt. Wallace, who lost his life saving his crew (see our previous story of regarding
William H. Wallace
here
), one last effort in fall 2015 has allowed us to get to know his daughter, J. I., and she has been gracious to share with us much about her biological father, whom she never met.
We are excited that Wallace's daughter will be visiting China and some of the sites her father would have visited during the war, as well as the rural village site where he perished, during spring 2016. In our December 2015 visit to Yunnan to discuss her upcoming visit, the Yunnan provincial government, and local village government, as well as people in the village, all expressed warm and unconditional welcome for her to come and visit, and a number of activities are being planned to welcome her and her family in Yunnan, including a time in the village in commemoration activities with villagers, and in sharing hospitiality in village homes with local families. 
During our December visit, we were very pleased to see that the stone we erected in 2006 is in perfect shape, without any damage of any kind, beyond the weathering of a few years.  Although it was a bit overgrown, we could also see that someone from the village had been to the site, some distance from the village, and had trimmed back tree branches and brush around the stone within the last year or so.  We are very thankful to the local community for protecting the memorial stone.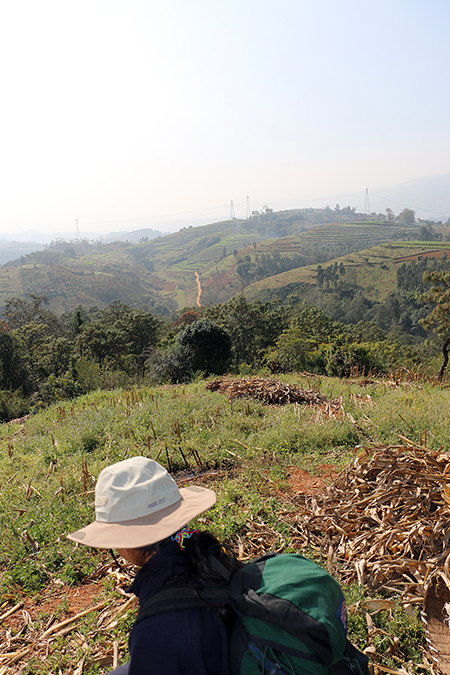 Walking on hillside above the marker, which is roughly at the dark bushy tree right in the middle.  Village in the distance near the power-line tower towards the right.  Back in WWII it is likely there was more forest coverage than now.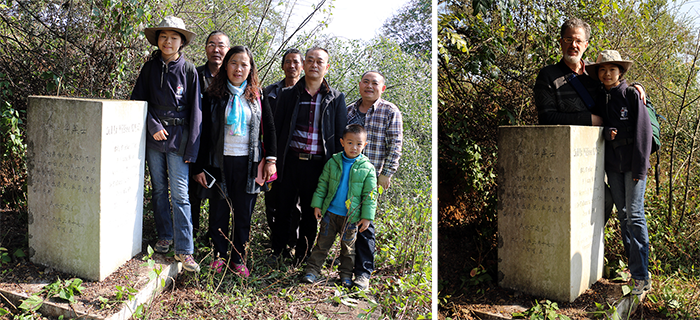 The group of us inspecting the marker in December 2015---a mixture of project volunteers, local villagers, and local villager government officials.
--------------
Do have more information regarding this item? Please contact pat@rshonor.org, or us the 'Provide Info' function below to help us preserve this CBI history!