William Harris Crawford White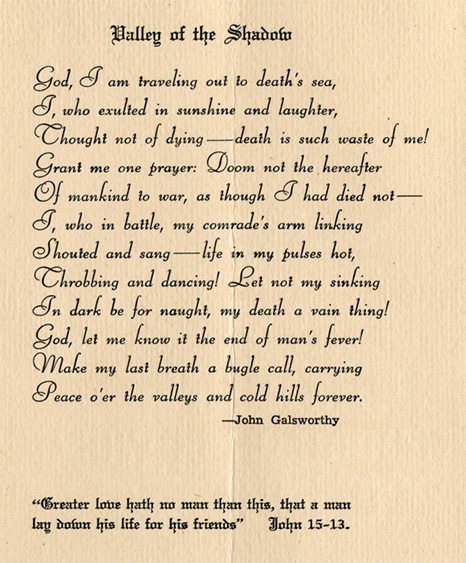 Memorial poem and scripture from Clemson Memorial Service, December 7, 1944, where Lt. White and others were remembered. (Courtesy of Clemson University TigerPrints.)
We hope to create here the story of William H. C. White, 11th Bomb Squadron, 341st Bomb Group, who was killed on December 30, 1943 while on a bombing run on the Yangtze river. We plan to never forget. To read about our search and visit to Lt. White and the crew's crash site, click here.
William Harris Crawford White, Clemson class of '37, enlisted as an aviation of cadet on January 7, 1942. After a initial training period at Maxwell field, he received his primary flight training at Ocala, Fla., then trained as a bombardier at Santa Ana, Calif.
The full list of crew lost together are that flight are:
William C. Arnold, 2nd Lt., pilot
Harland B. Keating, 1st Lt., co-pilot
William H. C. White, 1st Lt., Bomber-navigator
Lynnwood W. Smith, Sgt, Engineer-Gunner
For the first page of the Missing Air Crew Report (MACR) for this loss, please click here
(Image above courtesy of Clemson Alumni Association.)
--------------
Do have more information regarding this item? Please contact pat@rshonor.org, or us the 'Provide Info' function below to help us preserve this CBI history!